Find below the latest news and events from our Governors!
---
Summer Governors Morning 30th June 2023
On Friday 30th June our hard working governors were in the school for the termly visit.  From the feedback it was great to see such positive comments and it seemed they gained a great deal from the visit, including a flavour into the Science curriculum and teaching, not to mention British Values and Equality.  The governors started the morning with a meet and greet at the school coffee cart, welcoming parents as they dropped children off at school.  The Science Lead then presented and provided a comprehensive overview of the Science curriculum.  This was followed by a practical session where governors visited classrooms seeing Science lessons in action.  During the pupil conferencing sessions, they discussed Science and the childrens knowledge of British Values and Equality.  The morning ended with a final session with our Year 6 children who are getting ready for Secondary School and the children gave the governors an overview of their time at St Joseph's.  Thank you to our school governing body for their contribution and support.
Spring Governor's Morning 3rd March 2023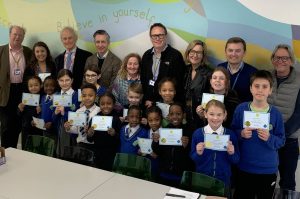 On Friday the 4th of March the Governors held their termly Governor's Morning to find out for themselves about the day to day workings of the school.  The morning consisted of a presentation by Mr Forbes, the Maths Lead; observing a range of English and Maths lessons; meeting with pupils from across the school to hear about their learning as well as meeting with various members of staff to discuss Staff Well Being.  An added bonus was the opportunity to meet the winners of the World Book Day Quiz that had been held the previous day.   Mixed teams consisting of pupils from Year 1 to 6 competed with one another to answer a range of questions about class and general knowledge books.  Prizes to the winning teams were presented by Dr Paul Lasok, the Chair of Governors.
Autumn Term Governor Afternoon
20th October 2022
Dear Governors,
Welcome to our Autumn Term Governor Afternoon. We have incorporated a number of sessions this visit, with a focus on Extended School Club including both Enrichment & After School Clubs. Pupil voice is key and so included are opportunities to discuss with children their insights into the clubs on offer and their overall experiences.
Governor Afternoon -Autumn 22 agenda
The ethos of the after school club is a child centric led provision with consideration of the school curriculum.  Goverors were shown the below presentation which covered all areas including Health & Safety, Safeguarding, SEN support and staff training within the Extended School provision.  Governors were shown around the After School Club and observed activities across both the Enrichment Clubs and the After School Club itself.  They spoke with a number of children on their visit who chatted around all areas including food, activities and the care provided by staff.  The running of the After School Club and staffing by existing staff was highlighted as a key strength as was the number of clubs and activities available to the children.  The children all articulated that they loved being in After School Club or the Enrichment Clubs and were engaged and enthusiastic.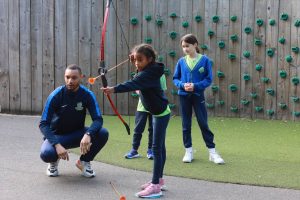 ---
Summer Term Governor Morning
17th June 2022
Dear Governors,
Welcome to our Summer Term Governor Morning. We have incorporated a number of sessions this visit, with a focus on non-core areas that may possibly be chosen for Ofsted deep dives. Pupil voice is key and so included are opportunities to discuss with children their access to, engagement and progress in these subject areas.  Our morning will focus on:
Meeting the finalists of the 'Young Speaker Challenge'
Reviewing the School SEF and School Action Plan 2022/23
Looking at Protected Characteristics
P.E, Computing and Art focus
The Governors were welcomed with a 3 minute speech from each of the 4 finalists from the Young Speakers Challenge.  The Senior Leadership then followed this with an overview of the School Evaluation Plans.  The curriculum focus for the morning covered PE, Computing and Art and the usual Governor morning formula was followed where governors were given the opportunity to observe lessons across different years and then speak with the children about their experiences and knowledge.

---
Autumn Term Governor Morning
19th November 2021
Dear Governors, welcome to our second Autumn Term Governor Morning. We have included your idea to meet with parents and have made the main focus EYFS based as this area of the school will have its own judgement in the forthcoming inspection.
To meet with parents informally so they can familiarise themselves with governors and understand their roles
To carry out classroom visits in the Early Years (Nursery and Reception Classes)
To meet with children and receive their completed 'Children's SEF'
To receive feedback on staff and parent questionnaires
Governor Morning – Autumn 2021
The Governors met with parents informally in the infant hall and discussed their views on the early years provision.  The Phase Leader presented the Early Years framework .  They observed the Early Years area and then had a free tour of the school with guiding questions.  They noticed the excellent behaviour of the chidlren and saw in practice the quality teaching taking place and noted the wide range of resources & facilities available.  The pupils then confidently delivered the Children's SEF alongside the RE/PHSE lead.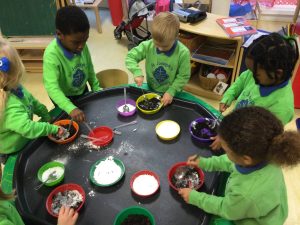 ---
18th October 2021
A busy week for governors
Governors received a comprehensive view of St Joseph's during the week of 18th October.
On Monday governors examined, with the aid of an external moderator, the self-evaluation of the school carried out by Miss McFlynn, Mrs Noronha and the senior leadership.  This enabled governors to see not only the strengths of the school but also the areas where work is in hand to improve further.
On Thursday governors convened again for their regular committee meetings focused on teaching, staff matters and school resources.  Governors were given detailed briefings on staffing, including staff training and development, assessment of children' learning post-Covid, and curriculum planning.  Health and safety matters are always on the agenda, and the school business manager brought governors up to date with the financial position and outlook.
Undaunted, on Friday morning at 8:30 a.m. governors returned in force to visit Key Stage 1 classes to observe teaching of Phonics  (learning to write and read).  We sat with the children, examined their writing, and heard them reading.  It's an exciting stage in a child's school life, and governors could see the professional skills of the teachers and the pleasure the children took in their own learning.
Governors also received a presentation on Relationships and Sex Education (RSE), and followed up with questions about this important subject.  Parents have been consulted and were given the opportunity to raise questions around the content and where required met personally with the Senior Leadership team.  Governors were satisfied that the statutory requirements are being met in an appropriate and sensitive manner.
The morning concluded with a presentation on science teaching and visits to classrooms to observe science teaching, examine books and talk with the children about their learning.  The children all appeared to be budding scientists – it was hard to stop them talking all at once about what they had learnt about fossils, fungi, Galileo and the planets between Year2 and Year 6.  It's only fair to say that some of their pictures were more realistic than others but the enthusiasm was impressive.
Written by: Anthony Davey
16th September 2021
Dear Parent/Carer,
Parent Governor Elections
I am writing to advise you that a vacancy for appointment to a Parent Governor has arisen on the Governing Body of St. Joseph's Catholic Primary School & Nursery. There are twelve governors in total, two of whom are parent governors.
At St Joseph's we are fortunate to have on our governing body an extremely hard working and dedicated governing body who challenge the Senior Leadership Team to continually improve the school. The Governing Body's main tasks are to ensure that pupils receive high quality education, to plan for future development and improvement, and to support the school. Whilst specialist knowledge or relevant experience is useful, common sense and willingness to give time are key requisites.
Parent Governors are welcomed as valued members of the team and play a vital role on the Governing Body. We feel sure that there are parents prepared to take on this important role and give their time and commitment to helping us to make St Joseph's Catholic Primary School & Nursery the best that it can be.
Anyone who has parental responsibility for a pupil on the school roll at the time of the election can stand for election; may nominate someone for election; and may vote in the election. Parents who work at the School for 500 hours per year or are elected members of Islington Council, are NOT eligible to be parent governors, but are eligible to vote in the parent governor elections.
Before you decide to nominate someone, or indeed stand yourself, you may want to know a bit more about what is involved. Governors need not be experts in the field of education. What they do need is an interest in the school and in the welfare of our children and the time and willingness to get involved. The skills you have can be very useful to the governing body. If you are someone with the required experience, would you consider applying?
Governors also need what is known as 'soft skills' – the ability to be able to build relationships with a range of people, to be able to work as part of a team, to be able to question, and to make connections between different types of information. All governors are expected to be able to read straightforward budget reports and data on school standards. You will be expected to, undergo a Disclosure and Barring Service (DBS) check and sign a governors' Code of Conduct.
Our governing body expects governors to
 attend termly meetings of the full governing body
 sit on committees and attend the meetings which are usually once a term
 visit the school formally for monitoring purposes at least once a term
 visit the school informally at least half termly
 commit to attend training courses
In return, our governing body commits to
 provide you with a structured induction
 provide access to quality training via GovernorHub, Diocese of Westminster and Islington Local Authority
 provide you with an experienced governor as mentor
 provide informal feedback on your contribution to the governing body on a bi-annual basis
The Governance Handbook, published by the Department for Education (DfE), sets out the core role and functions of governing bodies and information about their specific legal duties, and links to further guidance and resources for governors.
https://assets.publishing.service.gov.uk/government/uploads/system/uploads/attachment_data/file/925104/Governance_Handbook_FINAL.pdf
The CES has produced guidance which sets out the role and remit of the Diocesan Bishop and trustees, diocesan officers and governors in Catholic schools and academies. This guidance explains how Catholic education is organised and the safeguards and freedoms that are in place to protect, preserve and develop the Catholic character of our schools and academies.
https://www.catholiceducation.org.uk/guidance-for-schools/governance/item/1003612-governance-of-a-catholic-school
The Returns Officer, Louise Palmer, should receive all nominations by Wednesday 29th September 2021 at 4:00 pm. You do not need a seconder, and you can nominate yourself. Every nomination, however, must be signed by the candidate stating that s/he is willing to stand. Candidates are also asked to write a few words (50-100) about themselves and why they wish to become a governor. Candidates are unable to withdraw from the election once ballot papers have been circulated.
If there are more nominations than vacancies the election will be by secret ballot. If a ballot is necessary, voting papers will be sent to all parents together with details of the ballot procedure on Monday 4th October 26th 2021. The closing date for the return of ballot papers is Friday 15th October 2021 at 4.00 pm. They will be counted at 12.00 noon on Monday 18th October 2021 and all candidates are invited to attend. The ballot is secret; you may send or post the ballot paper back in a sealed envelope addressed to the returning officer, or drop it into the secure ballot box in the school office by Friday 15th October 2021 at 4:00 pm. The first Governor's Meeting will be on Thursday 21st October 2021 at 5 pm.
If you would like to find out more about how you can contribute to governance at our school, please email me with your contact details and I will then arrange a time for a conversation.
Yours sincerely
C. McFlynn A. Noronha
Executive Headteacher
Head of School
We're off to the Races!
We had a very successful Charity Race Night and Raffle on Wednesday 20th March and thank everybody who attended, donated and made the night such a galloping success!
We are delighted that the following companies sponsored our races and we thank them for their continued support of the school.
BMS Insurance
G&P engineering
DGTT ( Dads Get Thirsty Too)
Fora
Pete and Gina ( Braedon's parents year 1 Orange class)
Harte's Irish Meat Market
Lucy and Tom Jackson (Jasmine Amber class year 1)
Plan C Building firm