Friday 3rd April 2020 – Religious Education Home Learning
As Holy Week commences with Palm Sunday (5th April), the following documents will give you some suggestions on things you could try at home to remember Jesus and this special time in the Catholic church. In each document, you will see ideas for both younger and older children, however please feel free to pick and choose from whichever you wish.
R.E Home Learning – Easter in Matthew's Gospel
Home Learning Week 2 (30.03.20)
Maths
English
Covid – 19
Please click the link below for a suggested Daily Timetable while the school is closed.
Year 1 Home Learning Pack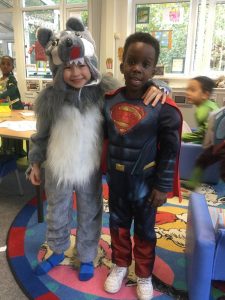 Year 1 Curriculum Overview Spring Term 
Year 1 Spring Curriculum Overview 2020
Happy New Year to all parents and carers! We would like to welcome you to the Spring term and tell you about all the exciting things the children will be learning about!
English
In English the children will continue to take part in daily phonics and handwriting sessions. They will continue to develop their speaking and listening skills using drama and role play. Also, the children will begin to write their own stories and try to use adventurous vocabulary when doing so. They will also be exploring non-fiction texts. They will continue to learn spellings from the spelling list.
Mathematics
This term in Maths the children will continue to learn about addition and subtraction and will begin to relate it to real life situations. They will be developing problem solving skills during Maths investigations. The children will explore patterns, volume, length and weight and use the appropriate vocabulary to describe them. Also, the children will continue to use a number line and a 100 square to solve calculations. We will continue to use Numicon and begin using Mathletics to support and engage pupils in the joy of Mathematics.
 Science  
The Science topics this term are 'Animals including Humans' and 'Seasonal Changes'. We will learn about animal groups and make comparisons between the bodies of humans and other animals. We will also look at the differences between the four seasons and identify and recognise changes for example, climate.
Computing
In Computing, the children will be developing their keyboard skills. They will learn to write sentences, correct mistakes, put things in the correct order and save their work. The children will also be using Computing programs such as '2 create a story' to make their own digital story books.  In addition to this, they will continue to develop their skills in using and understanding algorithms using a programme called Espresso Coding.
Art & Design and Design Technology 
In Art and Design, the children will continue to make observational drawings using a range of media. In Design Technology the children will design a stamp and make a print of it.
Geography
The theme for the first half term is 'Poles Apart.' Within this topic, the children will learn about maps, atlases and globes to locate different continents, including Arctic regions. Children will also be learning about the geography of the British Isles including its key rivers. In addition to this, they will be able to locate the equator and explain how it affects climate. The children will use a range of different sources of research e.g. books, pictures, photographs and the internet.
History
The theme for the second half term is 'Flight'. The children will learn about the history of flight and some key individuals and their achievements including Amelia Earhart and the Wright Brothers.
Music    
In Music the children will continue to take part in regular singing assemblies. They will explore pulse, rhythm and pitch during music lessons. We will be working from the Music Express Scheme.
PSHE
In PHSE the children will participate in circle time activities and games focusing on the topics of 'Keeping safe and well' and 'What goes into our bodies?' Within these themes the children will learn about personal safety, who they can talk to for help and people who help us to stay healthy and well. For example: dentists, doctors and nurses. In addition to this they will explore what goes into our bodies and how it can make people feel.
 Please remember that this is only a brief outline of what your child will be learning about during this term.