Home Learning Week 2 (30.03.20)
Maths
English
Covid – 19
Please click the link below for a suggested Daily Timetable while the school is closed.
Year 2 Home Learning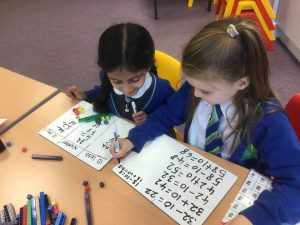 Year 2 Curriculum Overview Spring Term
Year 2 Spring Curriculum Overview 2020
Welcome back to school! We hope that you enjoyed the Christmas holiday and are rested, relaxed and ready for this exciting new term! Below is a brief summary of some of the areas the children will focus on during the Spring Term.
English
In English, the children will continue to develop their reading fluency and comprehension skills. Reading with adults at home as well as at school will maximise progress and confidence.In English Writing, we will be using different texts linked to our topic 'The Home Front' as a stimulus. The children will be writing diary entries and letters in role. SPAG (Spelling, Punctuation and Grammar) will be taught through discrete lessons and the children will then be challenged to include these different areas in their independent writing.
Maths
In Maths, the children will continue to develop their understanding of number through exploring multiplication and division. They will have opportunities to apply their learning to real life contexts and learn about how to use these skills to solve problems. They will use practical resources to support them when learning about fractions and shape.
Science
In Science, the children will be learning about 'Animals including Humans'. They will look at the different stages of the life cycle observing changes that occur in humans and different animals as they grow. This unit will also focus on the different needs that humans and animals have and how exercise, diet and hygiene impacts on their lives.
Computing
In Computing,the children will learn how to programme physical devices. They will then apply these skills in order to make a device travel in different directions.
History
In History, the children will be learning about 'The Home Front'. During this topic, the children will learn about the events that took place during World War 2. They will also be developing an understanding of what life at home was like by learning about transport, jobs, school and evacuees.
Geography
In Geography, the children will learn about which countries were involved in World War 2 and where those countries are in the world. The children will use atlases, globes and maps to places these countries within the world.
Design Technology
In Design Technology, the children will be designing and making their own rations meal.
Art and Design
We will be studying different pieces of artwork linked to our topic 'The Home Front.' We will look at the different techniques and mediums that were used to create the pieces and will be recreating our own pieces of artwork.
Music
In Music, the children will be exploring different sounds and instruments.
PE
In PE, the children will be developing their movement skills. Children will then be able to use these skills to support them when participating in individual and team-based games. This term, the children will also be learning about invasion style games with a focus on hockey.
MFL
The children will continue to develop their Spanish oracy, as well as reading and writing in Spanish.
PSHE
In PSHE, the children will discuss the meaning of community and what different communities they belong to. They will also consider how their community supports them and how they can contribute to their community.
Cookery
Relating to our topic of The Home Front, the children will be preparing food using rations people would have used in the war. The children will have the opportunity to apply their weighing and measuring skills when cooking.
Please remember this is only a brief outline of what your child will be learning about this term. We look forward to a fantastic term with your child!