We are delighted that you are considering making an application for your child to join our wonderful school.  St Joseph's is a very special place where our pupils are supported on their educational journey by a fantastic, committed teaching staff. I am so proud to be the Chair of Governors and I can promise you that your child will be cherished at our school.  Dr Paul Lasok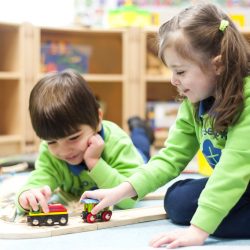 Nestled in the midst of a busy community, St Joseph's Catholic Nursery is a hive of learning and provides fantastic outdoor, woodland space for children to explore. Our wonderfully spacious and colourful learning environment has the most up-to-date facilities to encourage your child's development, providing a happy and secure stepping-stone from which your child can progress onto 'big' school.
Our staff are highly qualified, dedicated and caring, with a wealth of experience in delivering early years education. We provide a free hot lunch for all full-time children.
We offer fun packed activities across the week to develop skills and understanding through play. The children are presented with a wide range of practical experiences intended to motivate, stimulate and challenge and which promote learning through experience and encouragement of independence.
We are a fully inclusive school and accept applications irrespective of faith.  When we are oversubscribed we apply the oversubscription criteria detailed in our admissions policy.  Currently about 85% of children who attend the school are baptised Catholic and over the past few years, have been able to accommodate all Catholic applications.
We offer 60 places in each year group from Reception to Year 6.
We offer both 2 year old and 3 year old places in Nursery for both 15 hour or 30 hours.
Our Admissions Policy reflects a balance between those living in the area and faith applications.  We are a fully inclusive school and welcome applications from people of all faiths and backgrounds. We do however, ask that everyone who joins St Joseph's is fully supportive of the Catholic ethos & faith.
---
Application Process
The Admissions Policy which sets out the criteria for offering places at the school, as determined by the Board of Governors, is available to download by clicking on the link below:
Along with your Supplementary Information Form, you will need to bring to the school office your child's original baptism certificate as well as a Certificate of Catholic Practice, obtained from your priest.  We also require two proofs of address, one of which should have your child's name on it.  Examples of acceptable proofs of address include bank statements, benefits statements, and doctor / hospital letters.
Our over-subscription criteria shown in our Admissions Policy above will show you how we rank applications from both Catholic and non-Catholic applications.
Gaining a place in St Josephs Nursery does not guarantee a place in the main school. Further details regarding admission to the Main School are available from the school office or by visiting our Reception / In Year Admissions page.
Parish Boundaries
St. Joseph's Parish Boundaries and St Gabriel's Parish Boundaries
---
Children with SEND
If your child has a Special Educational Need and/or Disability (SEND) and you are considering St Joseph's Catholic Primary School's Nursery for their nursery education we would encourage you to contact our SENDCO – Mrs Noronha: SEND@st-josephs.islington.sch.uk) before applying in order to make a face-to-face appointment  with her in order to discuss your child's needs and so that she can talk through how we support children with SEND in our nursery.  Our SENDCO will begin transition work for children with SEND following the allocation and acceptance of nursery spaces.
The SEND Code of Practice places a legal duty for all local authorities to fund and offer a Parent Partnership Service.  This is a statutory service which offers free, confidential and impartial information, guidance, advice and support  for parents/carers of children with special educational needs around their education. Islington Special Education Needs Directory
Please refer to the following page for more information about our Special Education Needs provision  https://st-josephs.islington.sch.uk/about-st-josephs/sen/
---
Nursery – Frequently Asked Questions
What age do you take children
We are currently offering 2 year old and 3 year old spaces subject to staff ratios.
Do you accept Children who are not baptised Catholic?
We are a fully inclusive school and accept applications irrespective of faith.  When we are oversubscribed we apply the oversubscription criteria detailed in our admissions policy.  Currently about 85% of children who attend the school are baptised Catholic and over the past few years, have been able to accommodate all Catholic applications.
What hours do you offer?
The School Day for Nursery runs from 8.40am – 3.00pm, with 2 sessions; either a morning session until 11:45am or a full day until 3:00pm.  We also offer Breakfast Club 7:30am and After School Club from 3:00pm until 6:00pm.  Please refer to the pages on the website for further information and to apply for Extended School.
What is the Funded Childcare offer?
All 3 year old children are able to access a FREE part-time 15 hour place the term after their child turns 3.  Some 2 year olds are also eligible for 15 hours per week.
Please note, we accept employer vouchers and Government Tax Free Childcare.  Currently all 3 years olds can access 15 hours free of charge the term after they reach 3 (see below table).
If eligibility criteria is met Children can also access 30 hours free (including meals) and 15 hours for 2 year olds with funding are also accepted.
When Is My 3 Year Old Child Eligible for a funded place?
If your child is born between: 
They are eligible for a funded place from:
1st April and 31st August
1st September following their 3rd birthday
1st September and 31st December
1st January following their 3rd  birthday
1st January and 31st March
1st April following their 3rd  birthday
Check what help you could get with childcare costs
How do I find out about my 30 hour eligibility and get a code?
Many working parents of 3 and 4 year-olds could also be eligible to receive 30 hours funded childcare.  Use the following website to find out more information about paying for childcare www.childcarechoices.gov.uk.  HMRC recommends applying by the 31st December, March & July in order for the school to receive the funding.  If an eligibility code is not received before a child starts parents may have to pay for the provision.  Parents must provide the code to school as soon as they receive it.  The extended 30 hour entitlement is intended to support working parents with the cost of childcare and enable them, where they wish, to return to work or work additional hours.  The government has an online eligibility checking tool for parents/carers at https://childcare-support.tax.service.gov.uk/.
You will need to use this tool to check your eligibility. If eligible, you will receive a code which you give to the school office together with your National Insurance Number and your child's date of birth.  Providers must validate a code before they can receive funding for your nursery place.   Eligibility codes will be valid for a certain period of time and you will be reminded by the HRMC to re-confirm your eligibility every 3 months.
If I am not eligible for 15 hours or 30 hours how much do I need to pay?
For non-eligible children there is a charge of £90 (£120 for 2 year olds) per week for all part-time places (8:40 am – 11:45 am) and extended hour arrangements including lunch (11:55 am – 3:00 pm) is also available for those parents who accept a part-time place at a total charge of £180 (£240 for 2 year olds) per week. Children who are 3 years old who are not eligible for a 30 hour code would pay a charge of £90 per week for the full-time provision (8:40 am – 3:00 pm).