What an incredible week it was! We kicked off the week by joining in on a Zoom call hosted by the University of Cambridge. Our hosts took the children through a number of Maths problem-solving activities. We then joined the World Cup Series hosted by NumberFit, where the children mixed Maths with fitness. Maths Week England is all about boosting the profile of Maths and changing the national conversation of Maths to a more positive one. The Maths Week Zoom call, World Series and daily problems made for a fantastic week full of learning and fun.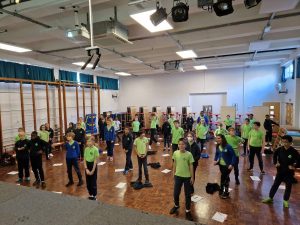 Moving on, we went on a school field trip to the RAF Museum in Colindale – tying in with our Topic work. The children experienced what life was like as a British school child during World War 2 and even got to try on some of the RAF uniforms. We then had some freetime to explore the museum and marvel and the wondrous helicopters and planes on display. Please check Twitter for more photos!
In PE, the children began building their excitement for the Qatar World Cup by hosting our own mini World Cup. We had many nations competitng and fighting hard. However, everyone were respectful and had lots of fun!
We would also like to thank all the parents that attended the Maths workshop, all slides will be made available on the Maths curriculum strand of our website!