We were incredibly lucky to have not one, but two stellar visitors at St Joseph's today, both of whom thrilled, informed and entertained us, though in very different ways.
First, we had the bestselling children's writer, Frank Cottrell-Boyce, author of Millions and Cosmic. He read some hilarious excerpts from his latest book, Noah's Gold, all about a boy who stows away on his big sister's geography field trip because he wants to eat her sandwiches and ends up breaking the internet. The children asked him some excellent questions, so we learnt about his career and his inspirations too.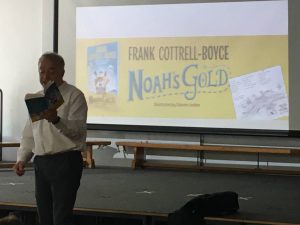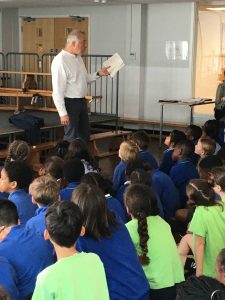 After a short break, we were treated to an explosive science show from the marvellous Dr Szydlo. In a truly unforgettable way, he taught us about the science of combustion, chemical changes and the states of matter.
He has a show coming up on Saturday June 25th at the Royal Institution: Fireworks and Waterworks. I strongly recommend you get tickets!