This week, in Year 3, the children had their first Spanish lesson of the term with Professora Maria. They were recalling their prior learning, remembering how to say common Spanish phrases, and practising conversational Spanish with each other.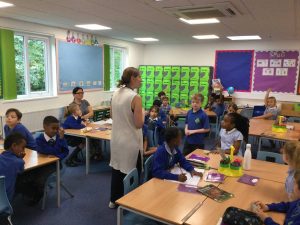 To kick off our learning all about 'Rocks, Soils and Fossils' the children watched an interactive live event all about rocks, fossils, and dinosaurs. They were amazed to learn many fun facts about fossils, one of which made them all gasp in horror. Did you know that there are dinosaur poos that have been fossilised over thousands of years?!
Lastly, we would like to say a big CONGRATULATIONS to all those in Year 3 who have been given a leadership role this year. We are immensely proud of them and look forward to seeing all the good work they do this year.