What a beautiful week in Year 1! We certainly made the most of the glorious sunshine and our fabulous outdoor areas by taking our learning outdoors this week.
As the children learn about maps in Geography, they decided to create our their own maps for our KS1 outdoor area. We talked about the term 'aerial view'. There was lots to include on the map including the chicken pen, pond, vegetable patches, outdoor gym and woodland. The children realised just how lucky they are to have such a special environment around them!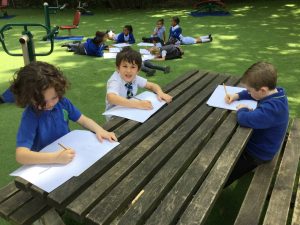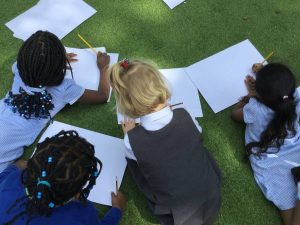 If only it was always sunny enough to work outdoors!
The children were also treated to a spectacular puppet show all about road safety. What a fun and exciting way to learn about such important concepts! Remember to STOP. LOOK. LISTEN. when crossing roads.