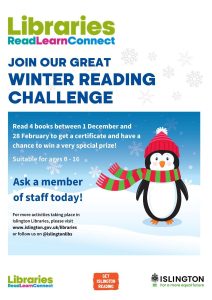 To support literacy over the holiday period, we welcomed a librarian from Islington Library Service to come into school to encourage our children to join their local library and the Winter Reading Challenge.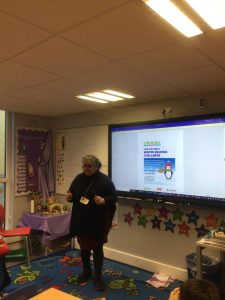 There are two challenges; the Winter Reading Challenge run by Islington libraries and the Winter Mini Challenge run by The Reading Agency. The challenges aim to encourage children to continue reading over the winter holidays.
Taking part in the Winter Reading Challenge is simple and free. Children need to read 4 books from their library between 1st December 2022 and 28th February 2022.  There are certificates for all those who complete the challenge as well as a chance to win a special prize!
For more information on the Winter Reading Challenge, and more activities taking place in Islington Libraries, please visit www.islington.gov.uk/libraries.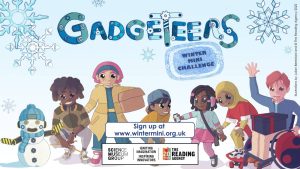 Taking part in the Winter Mini Challenge is free and online. Visit the dedicated children's website, www.wintermini.org.uk, and gain rewards for reading and reviewing books!
If you are not already a member of your local library visit https://www.gov.uk/local-library-services to find the library nearest to you. Join today and start borrowing FREE books, eBooks and eAudiobooks.