Reception have had a busy week learning more about people that help us. As part of their learning the children were asked if it is just people that help us? We discussed how animals can sometimes help us too, and what enables them to do this. On Thursday we had a very special visit! Elizabeth and Guide Dog 'Bruno' came into our classes to meet us!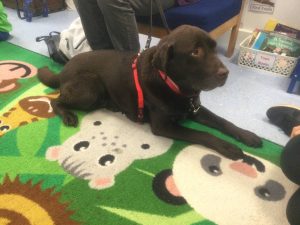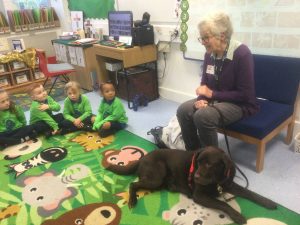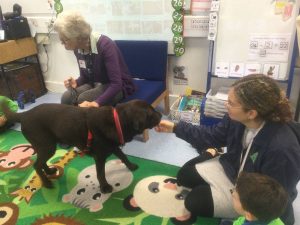 He was very friendly and happy to see us. He waved his tail a lot and rolled over on his belly. Elizabeth told us lots of interesting facts about his life, his training and his work. He had to go to a special school to learn things just like we do. He has to learn about road safety and when it's safe to cross.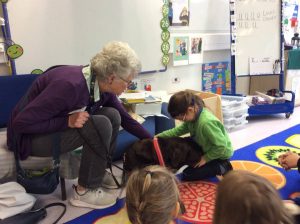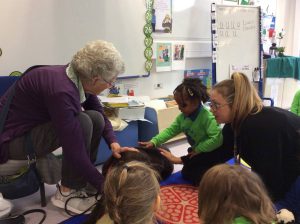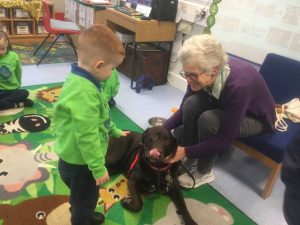 We asked some good questions about what he eats and drinks. We watched Bruno drinking from his bowl and then were invited to pat or stroke him if we wanted to.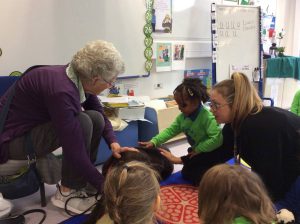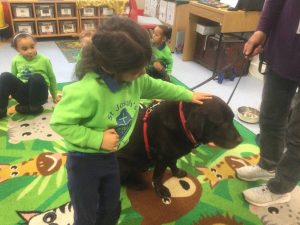 We learnt how as well as being a Guide dog for blind people he has done some very valuable work as a therapy dog. He visits sick people in hospital to make them feel better. What a great job you do Bruno and thank you so much Elizabeth for bringing him in!