Islington Council – Visit to our Library
Wednesday 15th June
We were delighted to welcome Sarah Callaghan Director of Learning and Culture and Councillor
Valerie Bossman-Quarshie to visit our school library.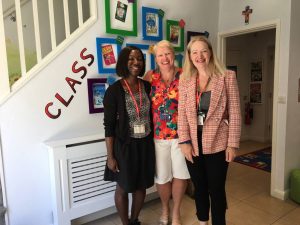 They came at lunchtime and were taken on a guided tour by some of our junior librarians from Years 5 & 6.
Our Library is housed in a separate building on the school site. There is a room devoted to foundation stage picture books where class sessions are hosted daily, a book nook and an early chapter book area for KS1. Upstairs we have a room for fiction books and another for non-fiction. We have a reading area outside with benches and sun umbrellas for use in the spring and summer months.
Our visitors spent time learning about our library and how our children enjoy using this resource.
Junior librarian, Enitan, Tanzanite Class, showed our visitors around the fiction room pointing out the different genres of books we have.
"My favourite books are by the author, J.R.R. Tolkien", said Enitan.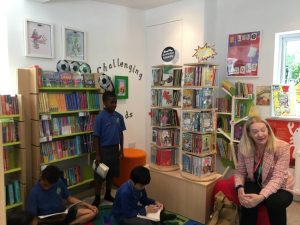 We have a well-stocked library with a wide range of titles that cover fiction, non-fiction, poetry, drama, folktales, etc. We have graphic novels, comics, manga, magazines, multi-lingual books, dyslexia friendly books, and now ebooks and audiobooks. Diversity and inclusion are celebrated across our provision.
Junior librarian, Cosima, Indigo Class, talked to our visitors about all her favourite literary events that are organised throughout the year.
"Frank Cottrell Boyce came last week to visit and he was so funny and read a bit of his book 'Noah's Gold'. It was great!", said Cosima.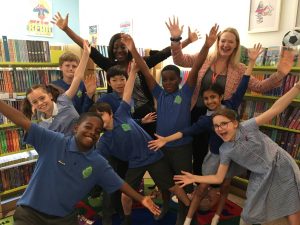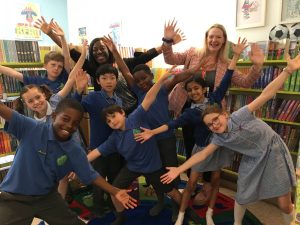 Our visitors seemed delighted with our children and library and left us feeling very positive about our Library and its role in encouraging our children be happy and confident readers for pleasure, well-being and learning.