Author Visit – Katie & Kevin Tsang
                                Year 4, Year 5 & Year 6
We are really excited to be celebrating the start of term with an author visit from the fabulous Katie and Kevin Tsang.
On Tuesday 19th September, Katie and Kevin Tsang, co-authors of the bestselling 'Dragon Realm' books, will be visiting St Joseph's to talk all about their brand-new action-packed series, 'Dragon Force' for 8+ readers. They will be signing books after the event!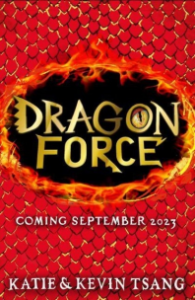 If you would like to support this event and pre-order a book/books for your child to have signed, please visit Pickled Pepper Books' website and order on this link:
https://www.pickledpepperbooks.co.uk/collections/katie-and-kevin-tsang-author-event-at-st-josephs
Make sure to place your orders by Friday 15th September!
Please remember to add your child's name and class to the 'notes to the book fairy' when ordering.
We are, indeed, very privileged to have Katie and Kevin Tsang visit our school and we hope that you will support this event.