And breathe!!!!
After an extremely successful trip to the Isle of Wight, we can reflect on a number of different aspects. We were asked at the beginning of the trip what our goal was for the end, to put simply, we wanted the children to gain independence and have lots of fun! If this were to be put as a learning objective, it would have been a huge tick!
The children set off early on Tuesday the 20th of September and made a pit stop at the HMS Victory in Portsmouth. The pupils had the opportunity to view the 104-gun ship that was commissioned in 1778.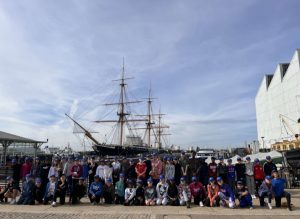 After this, we arrived at PGL – Little Canada and went right into the activities!
Moving on to Wednesday, we went fossil hunting and explored Dinosaur Isle. We began with a tour of the museum looking at fossils found in Britain before we went on to search for our own fossils on the beach. On the beach we found; ammonites, fool's gold and a shark's fin to name a few!
On Thursday, the pupils got to experience Osbourne House where Queen Victoria lived for many years. The pupils explored inside the extravagant house before spending some time on the private beach!
Sadly, on Friday, we had to wave goodbye to a fantastic trip on the Isle of Wight on the return ferry.
All of the events above were supplemented by fantastic activities led by PGL. To view these, please refer to the school's Twitter!
We want to finish with a big thank you to the parents of all our fantastic pupils. Their behaviour was impeccable and commented on by a number of PGL staff, you should all be so proud! Additionally, to all the staff who accompanied us, your role could not be understated, you were attentive at all times and the children benefitted immensely from this! Finally to the pupils, you were exemplary throughout the entirety of the week, providing us with many laughs and fond memories. We hope you had a blast! Until next the next trip…
Mr. Forbes & Ms. O'Connor