Our newly appointed Year 5 and 6 pupil Safety Leads had their first meeting with Mrs Noronha to plan what they would do to help keep the school a safe place. They couldn't wait to get started. They talked about working with our Pupil Chaplaincy Team to help children in the playground when they feel sad or fall over. Later this term, they are also going to be working with our Digital Leaders to help everyone stay safe online. They also want to encourage children to walk when they are moving through the building. Look out for their posters around the school.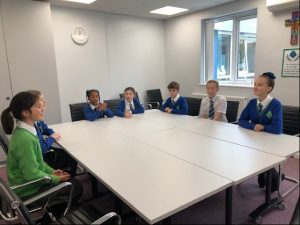 Last week was National Anti-Bullying Week. At St. Joseph's we held a Friendship Week using the theme of 'Reach out and be a friend'.
Our Safety Lead pupils attended three assemblies in Years 1 and 2, Years 3 and 4, and Years 5 and 6. They reminded children of our Friendship Week and helped children to think about what it means to reach out to someone else and be a good friend. At St Joseph's we use our Care Bears in Nursery, Reception and Key Stage 1, and our Worry Boxes in Years 3-6, to tell our teachers when someone has been unkind to us. Everyone agreed that all our staff take action to make things better. Emanuela in Year 4 summed it up beautifully in the Year 3 and 4 assembly, saying 'The adults always listen to you and help you find a solution so it isn't a problem anymore.'
Let us all continue to reach out to others and be a good friend.