Thursday 3rd November
Celebrate Reading at our Book Fair
and
HELP earn free books for your school!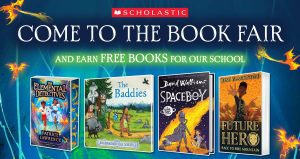 Reading for pleasure is transformative for children's academic success and wellbeing. We are hosting a Book Fair to bring books to the heart of our school. There will be hundreds of new children's books to browse and buy. With prices starting from only £2.99, there's sure to be a book for everyone.
When: Thursday 3rd November – Wednesday 9th November
Times: 8:40 – 9:00am and 3:00 – 3:45pm
Where: New Conference Room
Please follow this link to your Book Fair Invitation
https://images.scholastic.co.uk/assets/a/88/23/book-fairs-september-invite-2149206.pdf
Whether you are attending the Book Fair in person or ordering from home, all card payments for books should be made securely online by following this link https://bookfairs.scholastic.co.uk/pay and simply selecting your school from the drop down menu or using QR code.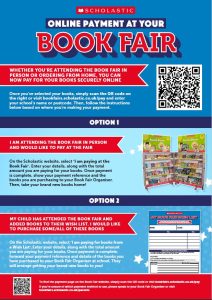 Pre-paid gift vouchers are available. Go to www.bookfairs.scholastic.co.uk/gift-vouchers to buy vouchers for your child before the Fair.
Also, your child will be visiting the Book Fair during the school day with their class and they will be able to bring in cash to purchase books on that day. Please provide the money in an envelope clearly marked with their name and class and give it to your child or teacher.
Thursday 3rd November     Year 5, Reception
Friday 4th November           Year 3, Year 4
Monday 7th November        Nursery, Year 6
Tuesday 8th November        Year 2, Year 1
Your child may come home with a Wish List. These are designed to allow your child to make a note of the books they would like to purchase. Please return the Wish List to school along with proof of online payment or cash so that the books can be given to the child.
To keep up-to-date with our Book Fair news log-on to our library blog at www.ilovereadingatstjosephs.blogspot.com.
Don't forget that every book you buy can help towards FREE BOOKS for our school library. The last Scholastic Book Fair was a huge success for St Joseph's making over £1000 in FREE BOOKS.
It's the perfect place to begin your Christmas shopping!