Frank Cottrell Boyce
Award-winning author and screenwriter
Friday 10th June
Presentation for Years 3, 4, 5 & 6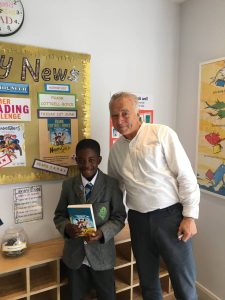 Frank admired our lovely children and library.
What an amazing Friday morning our Year 3, Year 4, Year 5 and Year 6 children had with the very inspiring and amusing award-winning author, Frank Cottrell Boyce.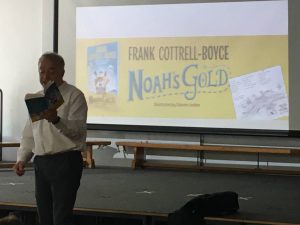 Frank came to visit us to share his latest book 'Noah's Gold' which is packed with mystery, adventure and laughs. Frank enthralled the children with his lively story-telling and readings from his books, Noah's Gold and Sputnik's Guide to Life on Earth.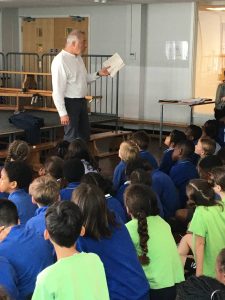 The children had an opportunity to ask Frank many thoughtful questions.
Khamil (Indigo Class) – "What inspired you to write Noah's Gold?"
Frank – "The best thing about writing is that it takes you out of yourself and you can explore other places"
Emile (Blue Class) – "Where did you get the idea for Noah's character?"
Frank – " Noah is based on me as we both love food."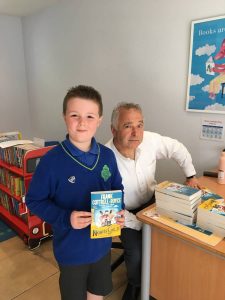 Amara (Blue Class) – "Do you make mistakes in your writing?"
Frank – "Yes, but is it fine to make mistakes. Some of the best things in the world come from mistakes like chocolate chip biscuits!!"
Riccardo (Violet Class) – "Why did you want to be an author?"
Frank – "I discovered that I was good at writing at school and realised that words are a superpower that can make people laugh.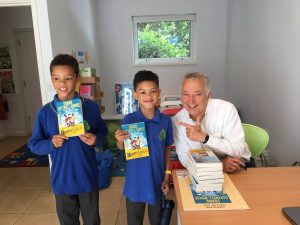 Frank's presentation was brilliantly entertaining and thought provoking.
What a treat!
To find out more about Frank Cottrell Boyce and his fabulous books click on this link.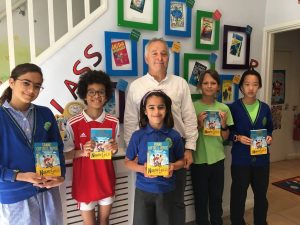 Thank you to all our Parents and Carers who purchased a signed copy of Noah's Gold and helped to support this event.
Many thanks to Frank Cottrell Boyce @frankcottrell_boyce and Pickled Pepper Books, Crouch End
@pickledbooks