Steven Lenton
Author & Illustrator visit
Thursday 25th November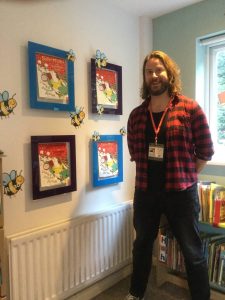 What an amazing Thursday morning our Reception, Year 1 and Year 2 children had with the very wonderful and energetic author and illustrator, Steven Lenton.
Steven came to visit us to share his latest book in the popular 'Shifty McGifty and Slippery Sam' series written by Tracey Corderoy. The lastest story is all about Christmas and is called 'Santa's Stolen Sleigh'.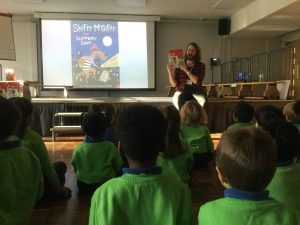 He delighted the children by reading the story to them whilst showing them his illustrations on a PowerPoint presentation accompanied with music to get us all in the Christmas mood.  
After this the children were treated to a-draw-along-Lenton!
 Steven shared with the children how to draw his book character, Slippery Sam, and the children drew their own and they were all amazing.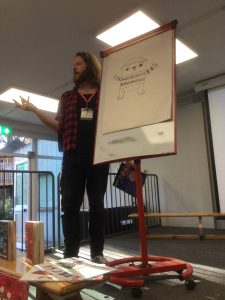 Finally, Steven had a fabulous game based on 'Shifty McGifty and Slippery Sam: The Aliens are Coming! book by Tracey Corderoy. Splitting the children into two teams – Team Shifty and Team Sam – the children had to chant to roll the dice and move their rocket around a board on the interactive PowerPoint. The excitement of which rocket would land on the moon first was incredible as the children chanted louder and rocked our assembly hall with Team Shifty coming in first by a whisker!
It was lots of fun!
Billy, Amber Class said the morning definitely got "a double thumbs up"!!
Praise indeed!
Before he left Steven gave each child an activity 'Make your own Christmas decoration' pack.
What a treat!
To find out more about Steven and his fabulous books go to
https://www.stevenlenton.com/About-Steven
Thank you to all our Parents/Carers who purchased a signed copy of 'Shifty McGifty and Slippery Sam: Santa's Stolen Sleigh' and helped support this event.
Many thanks to Steven Lenton and the Pickled Pepper Books.