We have had a very busy week in Reception. We had our Welcome Liturgy and our very first trip!
Reception and all new children across the school were welcomed into the St Joseph's family on Thursday by Fr George. The children sang beautifully and we remembered Jesus' first disciples as each child offered their gift of a decorated fish.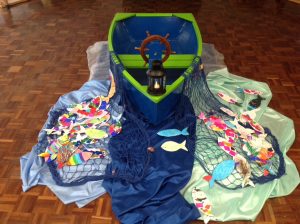 On Friday we went on our first trip – a walk of the local area. We were looking for people who help us. Reception spotted bus drivers, a postman, taxi drivers, a man driving a street sweeper, lots of paramedics in ambulances and police officers in their police car! The children were very well behaved and we were lucky to have lots of parent helpers – thank you!