P.E. Sports Ambassadors 2022/23
Sports Ambassadors
This year we are proud to announce an outstanding group of children from year groups 3 to 6 who are our Sports Ambassadors – see image below.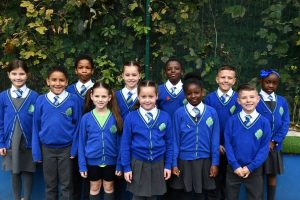 The children applied for the role by completing an application form to explain why they would be good Sports Ambassadors for the school.
The Sports Ambassadors role is designed to build leadership skills and as a result enables the young people to be  empowered to achieve the following responsibilities:
• Be the youth voice for P.E. and school sport in their school and community
• Promote the positive values of sport and physical activity in school
• Be a role model and champion for P.E. and school sport
• Able to engage and inspire others to have a good attitude towards learning and playing sports
• Increase participation opportunities and healthy lifestyles choices for everyone
• Work with Mr. Grant and other class teachers to help with lunchtime games and manage equipment
• Have a role in assemblies, this may include distributing certificates, announcing winners of competition
• Work alongside Mr. Grant and other class teachers to organise events such as sports day and intra competitions
• Attend regular meetings to discuss what we can do better with P.E. in our school
• Wear a special sports ambassador badge so they can be recognised around our school
This position is open to pupils from year groups 3 to 6 and they will be able to apply at the beginning of each new school year.
The role of Sports Ambassadors is to maximise pupil learning by providing them with the opportunity to take more responsibility of their own and others learning through the use of physical education. It is also aimed to establish a higher regard of the importance of Physical Education throughout the school. Holding this position will give them the opportunity to engage with pupils in all year groups, manage resources, demonstrate skills and share knowledge with others and in turn help each of them to develop leadership skills to equip them for the remainder of their time at St. Joseph's, at their next school and beyond.
Mr. Grant – St Joseph's Catholic Primary School Physical Education Lead