Our Extended school manager is Mrs Collins and she can be contacted via email asc@st-josephs.islington.sch.uk alternatively you can call 0207 272 1270 option 2 and please leave a message as she will pick this up as soon as she can.
Our school day runs from 8.40 am to 3.15 pm.  The School provides Extended School Services (Breakfast, Enrichment and After School Clubs) is available for children in Nursery to Year 6.
Breakfast Club                   7.30 am to 8.40 am (latest drop off 8:15am)
Enrichment Clubs             3.30 pm – 4.15/4.30 pm
After School Club             3.15 pm – 6.00 pm
Charges are as follows:
Breakfast Club rate for all children: £5.00
After School Single Children's rate: £12.00
After School Siblings rate: £10.00
Discounted rates are available for low income working families.  See below for more details.
Children should be collected promptly from the designated area as advised in their confirmation letter.  Late pickups will be charged for the staff time who have to remain late.
The Breakfast and After School Clubs are held in the Infant Hall and Playground with a separate setting for Nursery with age appropriate activities both inside the building and outside.  Children will be escorted from their classroom to clubs or given a timetable if they attend senior classes.
There is a supervised study area equipped with computers as well as a separate quiet room for reading and playing quiet games.  All staff are fully trained teaching or early year assistants and first aid trained.  There is a wide range of enrichment clubs that compliment the curriculum.
Registration
You can register your interest using the extended club form and return to the School Office.  The service is currently oversubscribed and your application will be placed on a waiting list.  When a place becomes available the Extended School Co-ordinator will contact you.  You will need to inform the school each year if you wish to remain on the waiting list.
To register each term for enrichment clubs, please complete the form from the school office and return with your payment to the Extended School Co-ordinator on a specific day that you will be notified together with the Activity timetable for that term via ParentPay Email.
Catering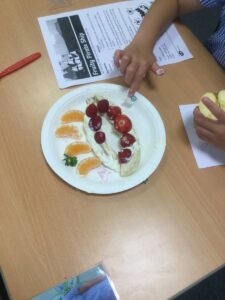 We are a Healthy School and a supper is provided to children in the After School Club.  Caterlink who are an Islington Borough approved provider provide a cooked meal each day with fruit and salad.  A seasonal menu is available in the after school club and also on the School's Website
How to register:  All enrichment clubs are booked at the start of each term.  Letters are sent out to all parents advising them of the clubs and they are then available to book via ParentPay.
AFTER SCHOOL CHILDCARE
CHEAPER CHILDCARE FOR LOW INCOME WORKING FAMILIES
Some low-income working families find it hard to pay for childcare – although tax credits can really help, not everyone is entitled to them and, even if you are, they may not cover all your costs.
So St Joseph's is offering a limited number of places with a discount of £2 per day (ASC). If your family's income is £24,999 or lower (gross – before tax) and you are in paid employment, you can apply. These are available on a first come first served basis and limited to one per family.
To apply for one of these places, please contact Louise Palmer via email office@st-josephs.islington.sch.uk and ask for the application form
You will need to complete a simple application form and provide original documents to prove:
your address (utility bill)
income (weekly or monthly pay slips or audited accounts/HMRC self-assessment form if self-employed).
your child's identity (birth certificate or passport).