Find below the latest news and events from our Governors!
16th September 2021
Dear Parent/Carer,
Parent Governor Elections
I am writing to advise you that a vacancy for appointment to a Parent Governor has arisen on the Governing Body of St. Joseph's Catholic Primary School & Nursery. There are twelve governors in total, two of whom are parent governors.
At St Joseph's we are fortunate to have on our governing body an extremely hard working and dedicated governing body who challenge the Senior Leadership Team to continually improve the school. The Governing Body's main tasks are to ensure that pupils receive high quality education, to plan for future development and improvement, and to support the school. Whilst specialist knowledge or relevant experience is useful, common sense and willingness to give time are key requisites.
Parent Governors are welcomed as valued members of the team and play a vital role on the Governing Body. We feel sure that there are parents prepared to take on this important role and give their time and commitment to helping us to make St Joseph's Catholic Primary School & Nursery the best that it can be.
Anyone who has parental responsibility for a pupil on the school roll at the time of the election can stand for election; may nominate someone for election; and may vote in the election. Parents who work at the School for 500 hours per year or are elected members of Islington Council, are NOT eligible to be parent governors, but are eligible to vote in the parent governor elections.
Before you decide to nominate someone, or indeed stand yourself, you may want to know a bit more about what is involved. Governors need not be experts in the field of education. What they do need is an interest in the school and in the welfare of our children and the time and willingness to get involved. The skills you have can be very useful to the governing body. If you are someone with the required experience, would you consider applying?
Governors also need what is known as 'soft skills' – the ability to be able to build relationships with a range of people, to be able to work as part of a team, to be able to question, and to make connections between different types of information. All governors are expected to be able to read straightforward budget reports and data on school standards. You will be expected to, undergo a Disclosure and Barring Service (DBS) check and sign a governors' Code of Conduct.
Our governing body expects governors to
 attend termly meetings of the full governing body
 sit on committees and attend the meetings which are usually once a term
 visit the school formally for monitoring purposes at least once a term
 visit the school informally at least half termly
 commit to attend training courses
In return, our governing body commits to
 provide you with a structured induction
 provide access to quality training via GovernorHub, Diocese of Westminster and Islington Local Authority
 provide you with an experienced governor as mentor
 provide informal feedback on your contribution to the governing body on a bi-annual basis
The Governance Handbook, published by the Department for Education (DfE), sets out the core role and functions of governing bodies and information about their specific legal duties, and links to further guidance and resources for governors.
https://assets.publishing.service.gov.uk/government/uploads/system/uploads/attachment_data/file/925104/Governance_Handbook_FINAL.pdf
The CES has produced guidance which sets out the role and remit of the Diocesan Bishop and trustees, diocesan officers and governors in Catholic schools and academies. This guidance explains how Catholic education is organised and the safeguards and freedoms that are in place to protect, preserve and develop the Catholic character of our schools and academies.
https://www.catholiceducation.org.uk/guidance-for-schools/governance/item/1003612-governance-of-a-catholic-school
The Returns Officer, Louise Palmer, should receive all nominations by Wednesday 29th September 2021 at 4:00 pm. You do not need a seconder, and you can nominate yourself. Every nomination, however, must be signed by the candidate stating that s/he is willing to stand. Candidates are also asked to write a few words (50-100) about themselves and why they wish to become a governor. Candidates are unable to withdraw from the election once ballot papers have been circulated.
If there are more nominations than vacancies the election will be by secret ballot. If a ballot is necessary, voting papers will be sent to all parents together with details of the ballot procedure on Monday 4th October 26th 2021. The closing date for the return of ballot papers is Friday 15th October 2021 at 4.00 pm. They will be counted at 12.00 noon on Monday 18th October 2021 and all candidates are invited to attend. The ballot is secret; you may send or post the ballot paper back in a sealed envelope addressed to the returning officer, or drop it into the secure ballot box in the school office by Friday 15th October 2021 at 4:00 pm. The first Governor's Meeting will be on Thursday 21st October 2021 at 5 pm.
If you would like to find out more about how you can contribute to governance at our school, please email me with your contact details and I will then arrange a time for a conversation.
Yours sincerely
C. McFlynn A. Noronha
Executive Headteacher
Head of School
ST. JOSEPH'S CHARITY RACE NIGHT date to be agreed.
All funds raised will go toward an exciting new project involving one of our playgrounds. More details to follow.
TOILET REFURBISHMENT.  Thank you for your continued support to help with funding our projects
Early Years Foundation Stage (EYFS)
We are delighted to let you know that our long-awaited Early Years toilet refurbishment has started. We were extremely fortunate to receive funding from the Diocese /Department for Education in order to allow us to renovate this area to ensure our EYFS toilets reflect the number of children we now have in school.
The refurbishment includes a complete overhaul and the space will be redesigned to include all new fixtures and fittings, new flooring and a greater accessibility for the children. This is very exciting news and we are all looking forward to our new EYFS toilet facilities.  We are sure you will agree that this refurbishment will make a big difference to our school and particularly to our EYFS Pupils.
Thank you in anticipation of your support and understanding.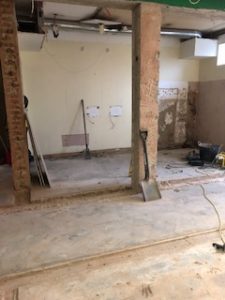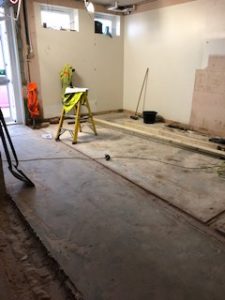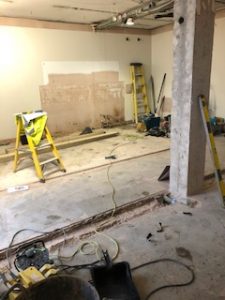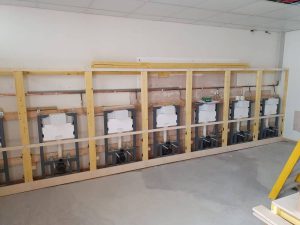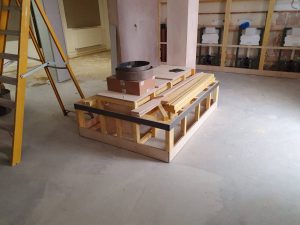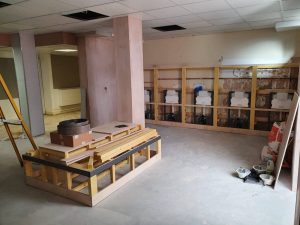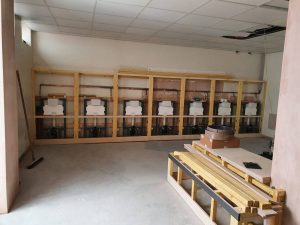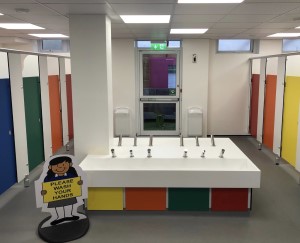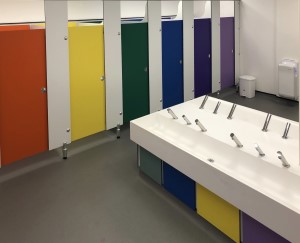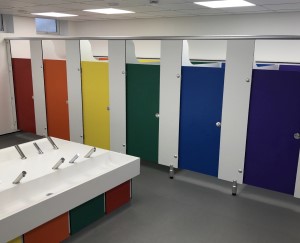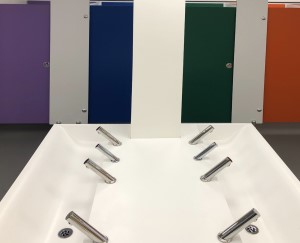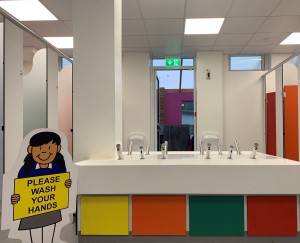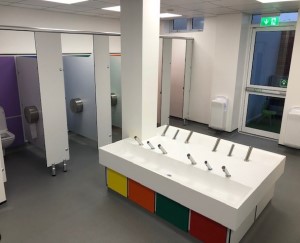 PARENTS HELPED FUND OUR NEW WALL.
Thank you for all the kind donations and we are delighted with the end result for our new entrance.
The work is complete at the front of the school and the new wall /boundary.  See below for the brand new wall against the old, complete with our new fence.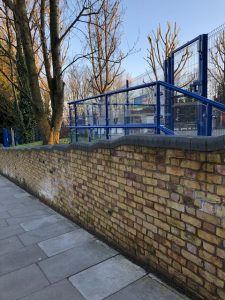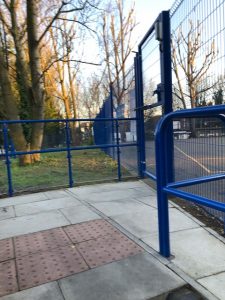 We're off to the Races!
We had a very successful Charity Race Night and Raffle on Wednesday 20th March and thank everybody who attended, donated and made the night such a galloping success!
We are delighted that the following companies sponsored our races and we thank them for their continued support of the school.
BMS Insurance
G&P engineering
DGTT ( Dads Get Thirsty Too)
Fora
Pete and Gina ( Braedon's parents year 1 Orange class)
Harte's Irish Meat Market
Lucy and Tom Jackson (Jasmine Amber class year 1)
Plan C Building firm