Catholic Life of the School
Welcome to St. Joseph's Catholic Primary School
At St. Joseph's,  we are a school of  love and hope. We believe that a Catholic education develops the full potential of all young people, leading to their life-long activities being guided by the Spirit and presence of Christ, in the service of God and of others.
It is a unique journey through education as it puts all learning and teaching in a Catholic moral context ultimately both challenging and supporting young people to develop in mind, body and spirit. The role of a Catholic school is to help everyone in the school community to discover the true value and dignity of each and every human being.
The school focuses on the education of the whole child. It is centred on Gospel values and reflecting on the teaching of the Catholic Church. Hence, the formation of each person is regarded as being as important as the information which is transmitted through the teaching offered.
Parents are the first educators of their child in faith and a strong home-school link  is fundamental in supporting the school in its mission . Together, we provide support for the faith community, helping to form a Christian conscience, and in addressing the increasingly secular influences of popular culture.
---
September 2019 – Pupil Leadership in Action
Pupil Chaplaincy Team Training with Sr. Judith.
On Tuesday 10th September, Sr. Judith came to school to work with our Pupil Chaplaincy Team. She helped us talk through our ideas for things such as fundraising, leading prayer and Parish work. Then she explained how to complete an action plan. We split up into small groups and got our ideas onto paper. Everyone had so much to contribute! After lunch, we had just enough time to rehearse the presentation of our action plan before Fr. Pat and the Senior Leadership Team arrived. We each took it in turn to present an idea to Miss McFlynn (our Executive Head), Mrs Noronha (our Head of School), Mrs Moore (our Assistant Headteacher) and our Parish Priest Fr. Pat. We were all a bit nervous but it was a great lesson in oracy and really helped to develop our confidence and presentation skills.
The Year of Adoremus is coming to an end…
Our Year 6 Chaplaincy Team attended the Mass at Westminster Cathedral to mark the end of the Year of Adoremus.  It was such a special occasion and it was lovely to see our contributions in the Deanery book being carried up and received by Bishop Nichols. Each school received a special Adoremus candle to take home with them.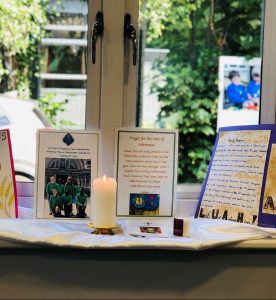 First Holy Communion 2019
Congratulations to the children of Emerald and Green Class on making their First Holy Communion.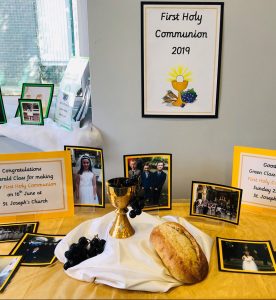 Have a look at the photographs below. Can you spot any of our adults in school on their First Holy Communion Day?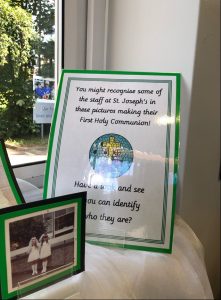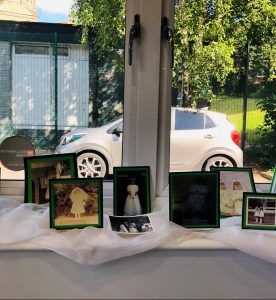 Easter Garden Project 2019
Over the Easter holidays, lots of our families were busy getting crafty and creative.  They were set the challenge of creating an Easter garden in order to help learn about and understand the story of Easter, the most special time in our church year. Take a look at their fabulous creations!
---
Lenten Service 2019
Fr. Pat came into school for our Lenten Service. We prayed to God that he would help us to try even harder to live like Jesus during this special time and we sang some beautiful hymns. Before it ended, we took turns in our classes to place our Lenten Promises at the foot of the cross. It was a beautiful service. Thank you Fr. Pat!
---
Lent to Easter